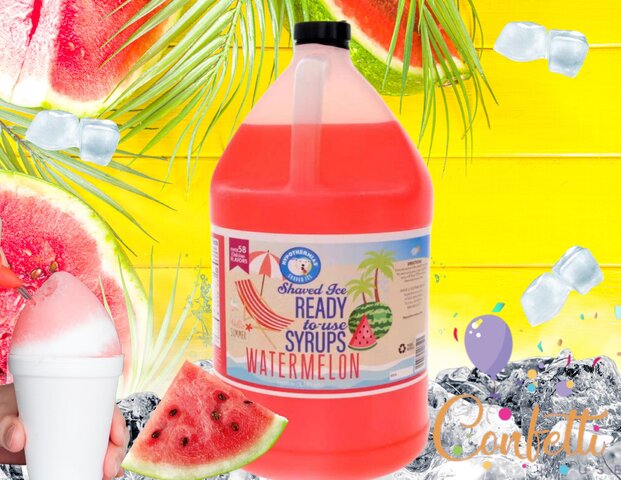 Refreshing Watermelon Snow Cone Syrup for Your Next Party




| | |
| --- | --- |
| Base Price – up to 8 hours of fun! | $28.95 |
| All day Long only $25/hr after 8 hours | $53.95 |
| Keep it overnight - Only $50 more | $78.95 |



Beat the heat with our tantalizing Watermelon Snow Cone Syrup Gallon from ConfettiHouse.com. Our premium syrup delivers a refreshing and authentic watermelon flavor, turning ordinary snow cones into an extraordinary summer treat. Whether you're hosting a birthday party, planning a corporate event, or simply enjoying a hot summer day in your backyard, our watermelon snow cone syrup is a must-have! Buy our gallon-size Watermelon Snow Cone Syrup and make your summer events unforgettable. Shop now at ConfettiHouse.com
100% PURE CANE SUGAR, NO CORN SYRUP! Most of the shaved ice flavors on the market contain corn syrup, a cheap and unhealthy sugar alternative.
Literally goes on everything! Pour some of our Hawaiian shave ice flavors on snow cones, sodas, slushies, ice pops, Slurpees, snowballs, and other ice treats. It can also be added to coffee, tea, sparkling water, beverages, and even pancakes, waffles, and crepes!

Enjoy Sno cones, Shaved ice, and Hawaiian Shave Ice any time of the year!
Make shaved ice like the pros. Ever wondered how the stand at the fairs makes such mouthwatering sno cones? The secret is the syrup. Now you don't have to wait for summer to enjoy a refreshing icy treat; with our flavor syrup for snow cones in your pantry, you can make a snow cone at home! Even the pickiest of eaters will be thrilled with the refreshing and fruit-filled flavor. Sure to be an instant crowd-pleaser.