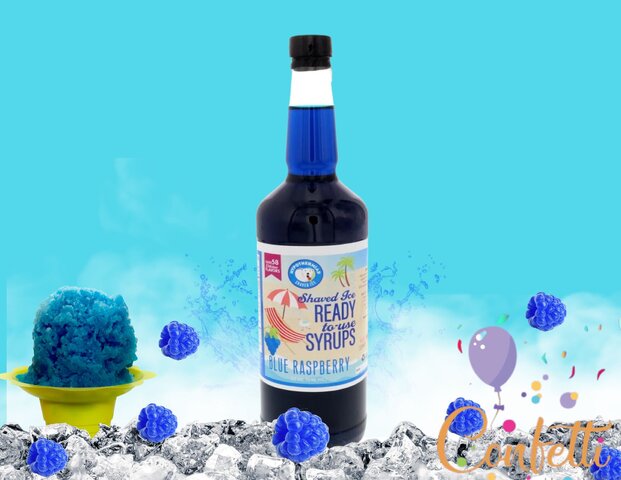 Snow Cone Syrup Quart- Blue Raspberry




| | |
| --- | --- |
| Base Price – up to 8 hours of fun! | $12.95 |
| All day Long only $25/hr after 8 hours | $37.95 |
| Keep it overnight - Only $50 more | $62.95 |



Blue Raspberry syrup is our #1 best seller. The little ones love it and can spot the beautiful blue color right off the bat. This syrup makes a snow cone that tastes sweet yet mellow. After eating a snowcone made with Blue Raspberry syrup, you will have the good fortune of having blue lips and a blue tongue for a delicious and silly good time. Make sure to have Blue Raspberry flavor syrup at your sno cone stand, concession trailer, food truck or party for a guaranteed crowd-pleaser.
Give your guests a sweet spoonful of fun! Add a splash of our snow cone syrup to transform ice into something exceptional. Impress everyone who dives into one of your flavored snow cones.

Loved by all ages! From the wee little ones to the adults and everyone in between, our flavor syrups are loved by all. Whether you are setting up a stand at the fair, throwing a party by the pool or enjoying the warm weather with the kiddos, our snow cone flavors are going to be a blast!

100% PURE CANE SUGAR, NO CORN SYRUP. Most of the shaved ice flavors on the market contain corn syrup, a cheap and unhealthy sugar alternative.

Literally goes on everything! Pour some of our Hawaiian shave ice flavors on shaved ice, snow cones, sodas, slushies, ice pops, slurpees, snoballs and other ice treats. Add to coffee, tea, sparkling water, beverages, even pancakes, waffles and crepes!

Enjoy Sno cones, Shaved ice and Hawaiian Shave Ice any time of the year!
Make shaved ice like the pros. Ever wondered how the stand at the fair makes such mouthwatering sno cones? The secret is the syrup. Now you don't have to wait for summer to enjoy a refreshing icy treat; with our flavor syrup in your pantry, you can make a snow cone at home! Even the pickiest of eaters will be thrilled with the refreshing and fruit-filled flavor. Sure to be an instant crowd-pleaser.