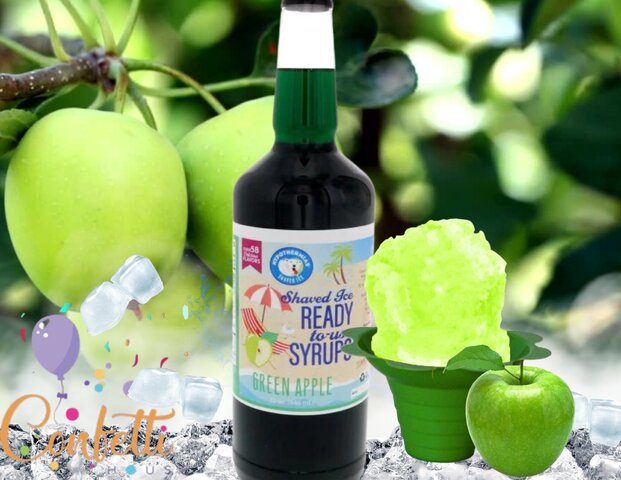 Snow Cone Syrup Quart- Apple




| | |
| --- | --- |
| Base Price – up to 8 hours of fun! | $12.95 |
| All day Long only $25/hr after 8 hours | $37.95 |
| Keep it overnight - Only $50 more | $62.95 |



Green Apple Ready to Use syrup tastes like climbing a tree for the perfect ripe green apple. Sweet, acidic, crisp and fresh, our Green Apple syrup makes a refreshing snow cone or Hawaiian shave ice just perfect for your next event, fair, carnival or party. Mix with Pink Lemon Sour for a sweet and sour icy treat.
Give your guests a sweet spoonful of fun! Add a splash of our snow cone syrup, you'll be able to transform ice into something exceptional. Impress everyone who dives into one of your flavored snow cones.

Loved by all ages! From the wee little ones to the adults and everyone in between, our flavor syrups are loved by all. Whether you are setting up a stand at the fair, throwing a party by the pool or enjoying the warm weather with the kiddos, our snow cone flavors are going to be a blast!

100% PURE CANE SUGAR, NO CORN SYRUP. Most of the shaved ice flavors on the market contain corn syrup, a cheap and unhealthy sugar alternative.
Literally goes on everything! Pour some of our Hawaiian shave ice flavors on shaved ice, snow cones, sodas, slushies, ice pops, slurpees, snoballs and other ice treats. It can also be added to coffee, tea, sparkling water, beverages, even pancakes, waffles and crepes!

Enjoy Sno cones, Shaved ice and Hawaiian Shave Ice any time of the year!
Make shaved ice like the pros. Ever wondered how the stand at the fair makes such mouthwatering sno cones? The secret is the syrup. Now you don't have to wait for summer to enjoy a refreshing icy treat; with our flavor syrup for snow cones in your pantry, you can make a snow cone at home! Even the pickiest of eaters will be thrilled with the refreshing and fruit-filled flavor. Sure to be an instant crowd-pleaser.

😃 Mess-free! Features a standard twist-on cap for effortless pouring. Flimsy flip top caps break easily, but this cap will stay functional for years to come
😛 Try alone or jazz it up: this snow cone flavor syrup tastes great by itself, but you can always mix it up with other delicious flavors from our brand
😍 Universally loved flavor: for kids and adults, this Hawaiian shaved ice will bring a big smile to everyone's faces
😋 Perfect consistency! We make sure that the Hawaiian shaved ice flavor syrup stays thicker and does not gets watered down like others
😜 Comes ready to use! Just add ice. Ready. Set. Snow!

Versatile!
Ice treats: shaved ice, snow cones, sodas, slushies, ice pops, slurpee and snoballs
Beverages: coffee, tea, iced teas, cocktails, drink sodas, sparkling water and smoothies
Food: pancakes, waffles, crepes, muffins, crepes and other baked goods

Good Stuff Only:
You wouldn't want unhealthy ingredients in your kitchen and neither do we! Our flavor syrup packs a real punch without any not-so-good-for-you ingredients and fillers. Most importantly, it contains NO CORN SYRUP.

Loved by kids, approved by moms!
💜 No fillers
🌈 No harmful flavors and colors
⛄ï¸Â Non-GMO
💖 100% pure cane sugar,
🌽 NO CORN SYRUP
❄ï¸Â Great on ice treats and beverages
💙 No harmful additives or chemicals
🤩 Loved by all ages
🍏 Delicious green apple flavor
Ingredients - SUGAR, WATER, CONTAINS 2% OR LESS OF: CITRIC ACID, NATURAL AND ARTIFICIAL FLAVORS, PROPYLENE GLYCOL, YELLOW #5, BLUE #1, PHOSPHORIC ACID, GUM ARABIC, XANTHAN GUM, SODIUM BENZOATE & POTASSIUM SORBATE (PRESERVATIVES), ANTI-FOAM.
5