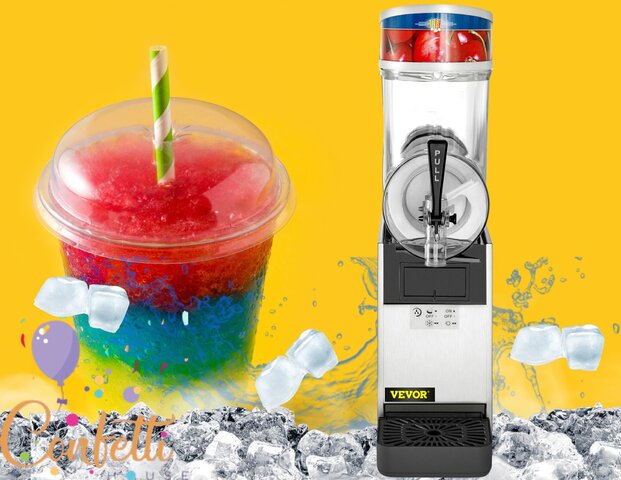 Slushie Machine




| | |
| --- | --- |
| Base Price – up to 8 hours of fun! | $125.00 |
| All day Long only $25/hr after 8 hours | $150.00 |
| Keep it overnight - Only $50 more | $175.00 |



The Slushy Machine for Confetti Event is a top-of-the-line commercial slushie maker designed to keep your guests refreshed and satisfied. With a 12L / 3.2 US gallon capacity tank, you can serve a large number of slushies and drinks simultaneously. The machine's interior bowl light illuminates your beverages, adding to the ambiance of your event and making it easier to serve drinks at night.
Constructed with a stainless steel body and food-grade PC tank, this slushy machine is built to last. It is durable for long-term use and easy to clean and maintain. The broadened mixing stirrer, with 360-degree rotation, ensures that all drinks are consistently mixed, reducing sediment in your drinks.
The slushie machine is equipped with a powerful 700W compressor and a copper condenser, featuring energy conservation and low noise. The high-efficient cooling system ensures rapid refrigeration and high-efficient slush production, allowing you to make various kinds of cold drinks such as fruit juice, tea, frozen cocktails, iced coffee, and more.
The machine has an easy operating panel with simple buttons that allow you to switch between cool drink and slush modes, turn on/off the light, and control the temperature. The factory has preset various drink settings, so you can make flavorful drinks at the push of a button.
The machine is designed with your convenience in mind. It comes equipped with a large drip tray to avoid water outflow, a faucet with springs to ensure minimal leakage, and rubber feet that are non-slip, providing increased stability during operation. The venting hole design on three sides helps dissipate heat quickly, ensuring that the machine remains cool during use.
Overall, the Slushy Machine for Confetti Event is the perfect addition to any event or party. It is built to be the best, ensuring consistent quality and taste for years to come. Get ready to make the perfect slushy every time and beat the heat this summer!