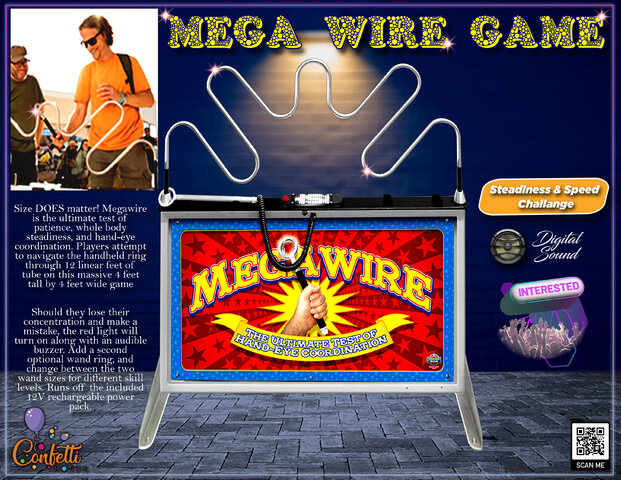 Mega Wire Game




| | |
| --- | --- |
| Base Price – up to 8 hours of fun! | $150.00 |
| All day Long only $25/hr after 8 hours | $175.00 |
| Keep it overnight - Only $50 more | $200.00 |



Megawire is the ultimate test of patience, whole-body steadiness, and hand-eye coordination. The game is designed to challenge players to navigate a handheld ring through 12 linear feet of tube on a massive 4 feet-tall by 4 feet-wide game. The size of the game makes it even more impressive to play and is sure to grab the attention of everyone around it. The game features a red light and an audible buzzer that turns on when a player loses concentration and makes a mistake. This adds an extra level of pressure and intensity to the game and emphasizes the importance of focus and steady hand movements.
Megawire also comes with an optional second wand ring, allowing players to change between two wand sizes for different skill levels. This feature makes it a versatile game that can be enjoyed by players of all ages and skill levels.
The game runs off the included 12V rechargeable power pack, eliminating the need for constant battery replacements and making it a convenient addition to any event.
If you're looking for an exciting and challenging game that will entertain your guests and make your event unforgettable, Megawire is a perfect choice. Contact us today to rent Megawire for your next event!